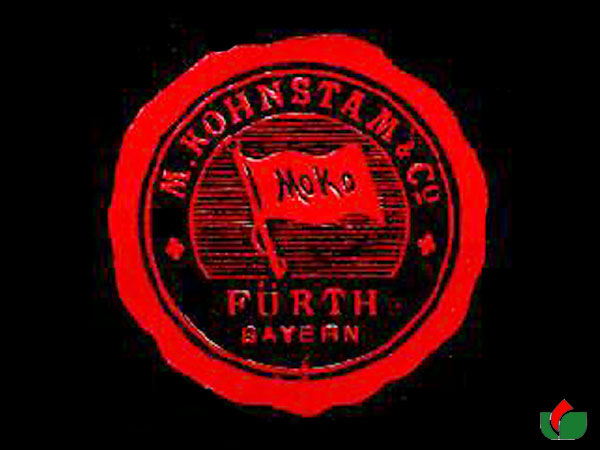 Old Reklame embossed brand Kohnstam 1890
The very first coined in 1890 official logo of the firm of Moses Kohnstam in Fürth Bavaria.
HISTORY OF MOKO TOYS
Moses Kohnstam was a wholesaler who specialised in packaging, storing and distributing toys and also gave financial backing to small toy manufacturers for which he received a percentage of their selling prices.
He also sold toys using his own brand name "Moko",the toys he distributed carried his Company`s name Moko no matter what various small firm`s made them.
By 1890 Moko had branches in Milan, Brussels and East London. Although M.Kohnstam & Company were not the largest toy manufacturer in Germany they were one of the leading firms in it`s field, owning a number of patents for mechanical toys.
The business was quite profitable and had a large amount of export trade. The name M. Kohnstam & Company was very well known and respected within the business circles throughout Europe.
Moses came to England in about 1900 to develop the toy industry, Moko became a well known name in toys. Many different toys were sold under the Moko name.
Moses Kohnstam died in 1912, one of his son`s Julius Kohnstam took over the business until the late 1940`s. It was then that Richard Kohnstam (Moses` grandson, Julius`s nephew) took control of the company.
In 1953 Richard Kohnstam became the marketing agent for Lesney Products, later better known as Matchbox Toys. Moko took a percentage of the profits on the products sold. In 1959 Lesney bought out Moko, there were conflicting interests between the parties.
Richard went on to form his own firm Richard Kohnstam Ltd / Riko International which were a toy and model importer until the end of 2000.


© Dream-Tintoys by Moko-Man [2023]